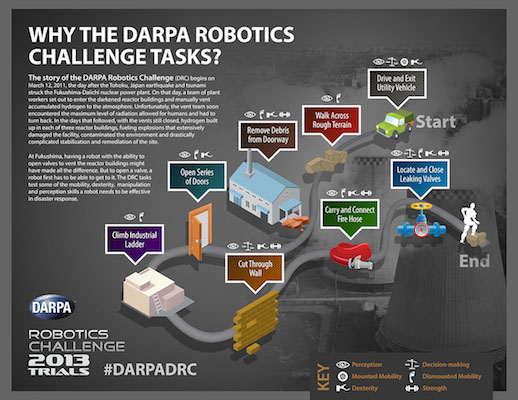 By
Haldun
The DARPA Robotics Challenge (DRC) was created to encourage robot companies to think of innovative designs for robots that could respond to disastrous situations that responders could not. As part of the NIST team, Robolit, continues to contribute to the DRC test site design effort.
The DRC stage is set up to be a repeatable, reproducible test method that mimics the environment of a building/factory that has been hit by an earthquake. The tasks performed on this stage include turning a valve, traversing difficult terrain, climbing a set of stairs, opening a door, cutting through a wall and driving a vehicle. All of these tasks force robot companies to consider the real application of their design and how it could be improved upon to better assist in a real earthquake disaster.
The trial stage set up by Robolit and NIST in Charleston was designed to allow companies to come and practice DRC tasks before the final event that will be held in Pamona, CA.